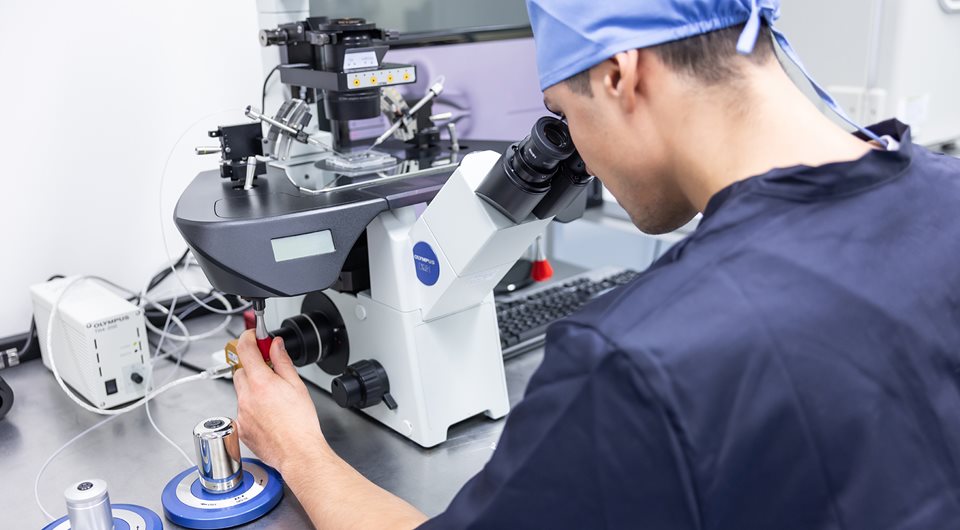 Workshop: 'Blastocyst culture, biopsy and vitrification'
Course description: You will learn about the fundamental principles of blastocyst culture, biopsy, genetic diagnosis and vitrification. This workshop is mainly focusing of hands-on training to improve your practial skills.
Course objective: The aim is to get an overview of current experiences and outcomes and to acquire experience on how to set up and manage a successful blastocyst culture program. You will experience intensive hands-on training in biopsy of blastocysts, vitrification after biopsy and the tubing of cells for genetic analysis.
Target audience: Individuals looking to learn and improve professional skills.
This workshop is performed in partnership with

, who are specialised in research, quality control, IVF training and consulting.

Vitrification with the Rapid-i vitrification system
The theory behind cryopreservation, from slow freezing to vitrification. Learn about the development of Rapid-i and how it has been optimised for secure vitrification with reproducible results.
Laser biopsy methods, tips and tricks
An overview on the fundamental aspects of the laser systems and the different biopsy techniques used in IVF, from their origins to their current clinical practice. Insight into the different ways of processing the biopsied cells for genetic analysis, with practical examples for mastering each technique and a focus on troubleshooting.
Current methods used for PGD and PGS
This module gives an overview of the different methods currently used for pre-implantation genetic diagnosis that have been developed for the screening of monogenic diseases or aneuploidies.
Quality by Vitrolife
Insight into the different strategies of quality testing that Vitrolife applies to the raw materials, procedures as well as the final products.
Do you have any questions about our workshops?
Please fill out this form and we'll get back to you.