Watch our previous webinars and live Academy Studio recordings
Vitrolife Academy provides global clinical support with external education, training and collaborations through a network of specialists and experts within the IVF field. Our commitment to knowledge sharing, education and training have never been more important. We have gathered all of our previous webinars below.
Vitrolife Studio is a collection of live presentations and practical demonstrations from previous events.
On Vitrolife Academy Educational Material you will find educational presentations, white papers, scientific summaries and much more to improve and deepen your knowledge in assisted reproduction.
Vitrolife and Igenomix live Academy Studios from ASRM 2022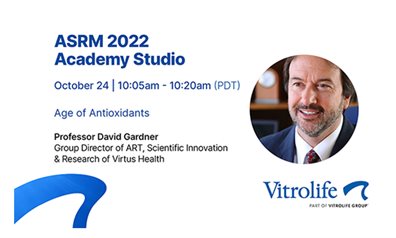 Age of Antioxidants
Professor David Gardner, Group Director of ART, Scientific Innovation & Research of Virtus Health.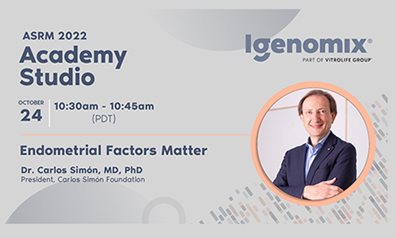 Endometrial Factors Matter
Dr. Carlos Simón, MD, PhD President, Carlos Simón Foundation.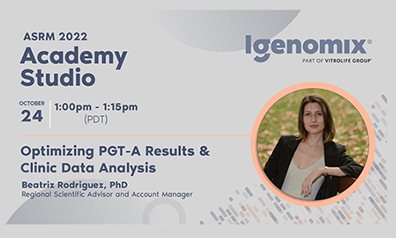 Optimizing PGT-A Results & Clinic Data Analysis
Beatriz Rodriguez, PhD Regional Scientific Advisor & Account Manager.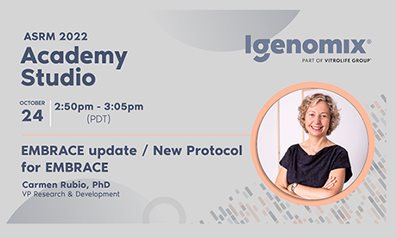 EMBRACE Update / New Protocol for EMBRACE
Carmen Rubio, PhD VP Research & Development.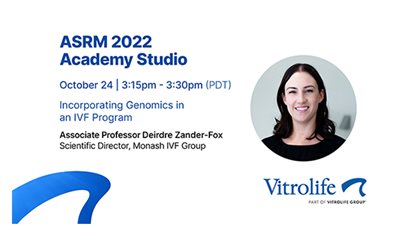 Incorporating Genomics in an IVF Program
Deirdre Zander-Fox, Associate Professor Scientific Director, Monash IVF Group.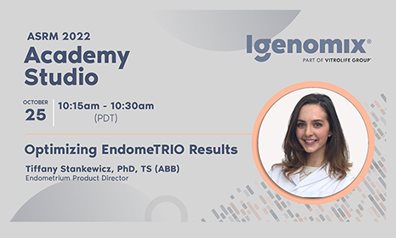 Optimizing EndomeTRIO Results
Tiffany Stankewicz, PhD, TS (ABB) Endometrium Product Director.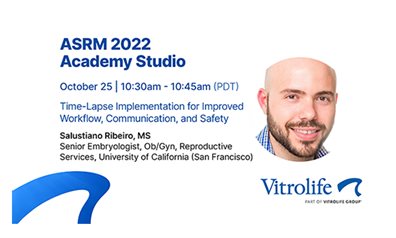 Time-Lapse Implementation for Improved Workflow, Communication, and Safety
Salustiano Ribeiro, MS Senior Embryologist, Ob/Gyn, Reproductive Services.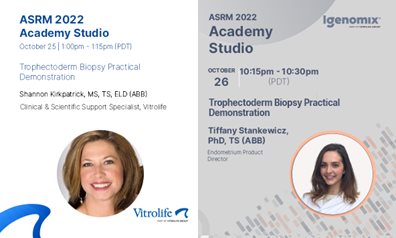 Trophectoderm Biopsy Practical Demonstration
Tiffany Stankewicz, PhD, TS (ABB) Endometrium Product Director, and Shannon Kirkpatrick, MS, TS, ELD (ABB) Clinical & Scientific Support Specialist.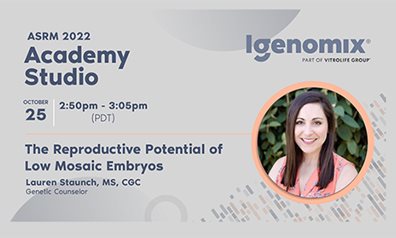 The Reproductive Potential of Low Mosaic Embryos
Lauren Staunch, MS, CGC Genetic Counselor.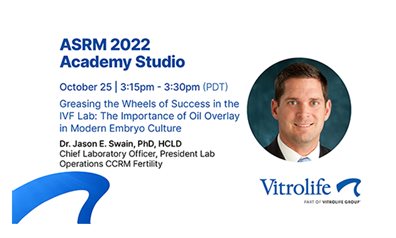 Greasing the Wheels of Success in the IVF Lab: The Importance of Oil Overlay in Modern Embryo Culture
Jason Swain, PhD, HCLD Chief Laboratory Officer, President Lab Operations CCRM Fertility.
Embryo culture and transfer